Scuba Diving in Malapascua
Scuba Diving in Malapascua: Dive with sharks and mantas; explore sunken ferrys and wrecks from World War II.
Malapascua was first known for its wide white sand beach, known as Bounty Beach.
Later Malapascua has become recognized for its excellent dive spots, like Gato Island for sharks and sea snakes, several wrecks and of course renowned Monad Shoal, an underwater plateau where thresher sharks and manta rays can be sighted on a regular basis.
To date, this is the only place in the world where divers can reliably see thresher sharks. Although weather can be rough in November and December, Malapascua is relatively protected and open for diving all year round.Malapascua Island is situated in Daanbantayan in the north of Cebu, about 8 km north-east of Cebu mainland and 25 km west of Leyte. Malapascua is a tiny island, only about 2.5 kilometers long and 1km wide, located across a shallow strait from the northernmost tip of mainland Cebu Island. As a diving destination, Malapascua was "discovered" fairly recently, only in the early 90s.
Malapascua Exotic Island Beach Resort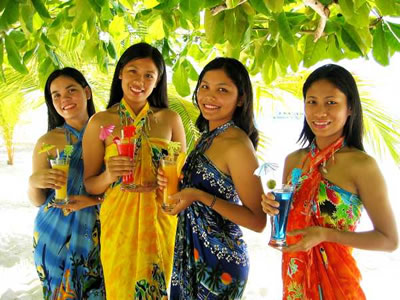 Tropical sun. Unwind. Warm water. No worries. Good diving. Smiling people. That sums up Malapascua Exotic Island Beach & Dive Resort, a big sandy chill out.
Malapascua Exotic is located in a corner of famous Bounty Beach, just far enough from the more crowded main beach to give it a secluded and tropical feeling. The resort has about 30 rooms and bungalows, is extremely clean and well maintained, under Dutch / English family style management and known for its relaxed atmosphere. Malapascua Exotic has its own restaurant, a PADI 5-Star Gold Palm dive center, spa massage services, a 24hr electricity supply, air conditioned rooms with satellite TV and hot water, and a sea view bar. Exotic Island is a fabulous resort for couples seeking a relaxed get-away and equally perfect for families or groups of friends who would like to share an exciting scuba diving holiday. In our opinion, you won't find a nicer place to stay on Malapascua Island.

Scuba Diving in Malapscua - 1:00 min
Certainly Malapascua is one of the best shark diving locations in the Philippines. Some of the sharks seen here include reef sharks like white tips and black tips, bamboo sharks, nurse sharks, thresher sharks, and if you are lucky even the marvelous hammerhead shark.
Depending on the season, large rays are seen on Monad and around Malapascua, especially manta rays, devil rays and sometimes eagle rays (see video).
As far as we know, Malapascua's Monad Shoal is only place in the world where thresher sharks can be closely observed on a daily basis. But even as shark and manta sightings are so very common in Malapascua, we can not really give a 100% guarantee on seeing the big stuff.
Aside from sharks, mantas and rays, Malapascua offers lots of small reef live and macro (nudibranches, mandarin fish, seahorses, frogfish) and several wrecks ranging in depth from 10 to 70 meters, some good for beginners, some challenging even for the most seasoned tech diver.
Malapascua Exotic Island has been the pioneer on Malapascua, being the first beach resort and dive operator on the island. Nowadays, Exotic's in-house PADI 5-Star Gold Palm dive center operates a diving fleet of 5 comfortable dive Bancas, offering 4-5 dives a day with diving activities starting as early as 4:30am. Even big 15 Liter tanks for the big boys who need lots of air are provided without surcharge. DIN adapters are available, too. Marine park fees are 100 Pesos per day, as of 2008.
Malapascua Exotic is not only a Project AWARE Go ECO Operator and a National Geographic Dive Centre but also one of the global dive operators who received an Environmental Award from PADI in 2007.
Additionally, Exotic is the only dive center in the Philippines offering the Thresher Shark Specialty Course, a PADI approved distinctive specialty course designed for divers who wish to understand more about the mysterious thresher sharks.
Dive Spots of Malapascua
Gato Island
Monad Shoal
Calanggaman Island
Ormoc shoal
Nuñez shoal
Maripipi Island
Chocolate Island
Doña Marilyn wreck
Don Macario wreck
Tapilon Japanese wreck
Pioneer Japanese wreck
A 4 hour ride by car from Cebu City or Cebu aiport brings you to the small town of Maya at the north tip of Cebu. From there Malapascua Exotic Island picks you up with a boat for the 30-45 minute boat ride to the resort.
Contact us for prices and packages
Cebu - Travel Philippines: Where do you want to dive today?