Scuba Diving in Cebu
Diving in Cebu: The island of Cebu, also called the queen city of the south, has some of the best dive spots in the Philippines.
From urban Mactan to small town Moalboal or exotic Malapascua, from the southern to the northern tip of the island, Cebu is certainly a heaven for all scuba divers.
If you want to do extensive diving for a couple of days, or even weeks, Cebu is definitely your best choice. Basically you can chose from 3 major scuba diving destinations in Cebu:
Map of Cebu's Dive Destinations
The map below is interactive, juxt click on the dive sites to get more information on scuba diving around Cebu. For your convenience we included the dive spots of Bohol and Apo Island.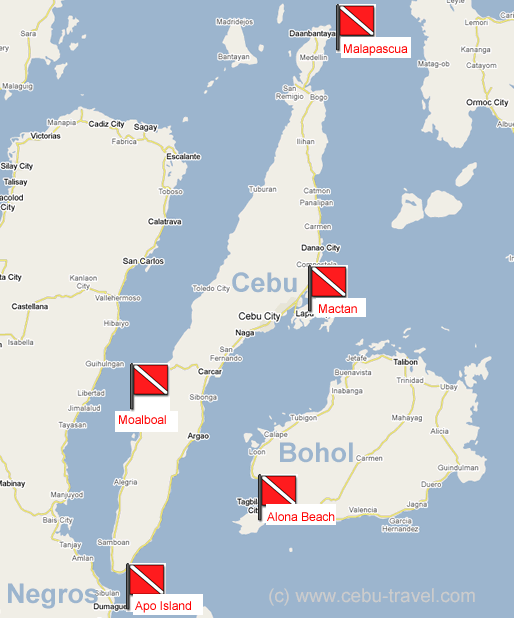 Scuba Diving in Mactan: Steep walls, famous Marigindon Cave for advanced divers, thresher sharks in Olango Island, decent coral coverage (thanks to several new established marine parks), lots of fish in several marine sanctuaries, drop off point for day trips and dive safaris to Cabilao Island, Alona Beach in Boho and Apo Island in Negros. Close to Cebu City for bar hopping and night life.
For more information on Cebu City itself click here.
Cebu - Travel Philippines: Where do you want to dive today?