Scuba Diving Sipalay Easy Diving and Beach Resort
Diving in Sipalay, Negros: Sipalay is located on the west side of Negros Occidental, Philippines, and boasts one of the Philippines most beautiful beaches and dive spots.
Untapped and developing, it has the charm of paradise everywhere you go. The cities of Bacolod and Dumaguete are gateways to Sipalay City.
Punta Ballo Beach is located in close proximity to Tinagong Dagat. This fine white sandy beach is more than a kilometer stretch. It's the nearest jump off point towards the sea ideal for snorkeling & diving due to the rich marine life. Sipalay Easy Diving and Beach Resort is located here at Punta Ballo Beach.
A 15-minute boat ride from the city proper is the Sugar Beach- German, Swiss and Filipino-owned resorts line this sugary beach, which offers an excellent place for swimming, and various water sports activities. Not far from the Sugar Beach is the Tinagong Dagat - a hidden sea sprinkled with a dozen islets covered with lush vegetation. The sea bottom is covered with patches of sea grass beds, with the shoreline lined by old-growth mangroves.
Sipalay Easy Diving and Beach Resort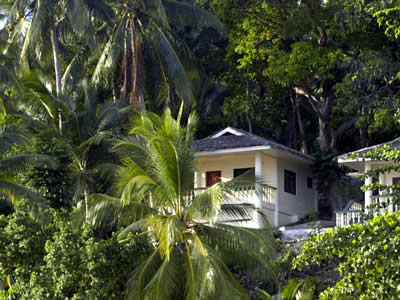 Sipalay Easy Diving and Beach Resort is under Swiss management, Chris Reinwald is the owner and he manages Sipalay Easy Diving and Beach Resort by himself.
There are 16 detached bungalows, harmoniously embedded between a slope covered with tropical vegetation and the quiet beach. All bungalows offer fantastic sea view. All bungalows have aircon, warm water and a mini-bar. The Restaurant is located directly at the beach and offers native and European food.
Besides reading, swimming and snorkeling, volleyball or football can be played at the shady sandy area in front of the restaurant. Mountain bikes and kayaks are available, too.
Scuba Diving with Sipalay Easy Diving and Beach Resort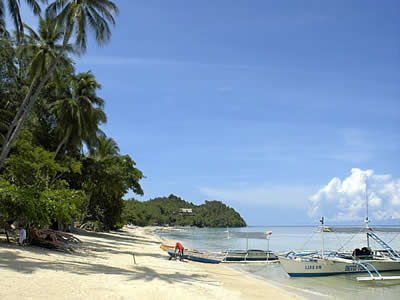 The Dive Center is located directly at the beach. It is a 5 Star PADI IDC Dive Center and under Swiss management.
Daily boat trips to more than 40 dive spots are offered by 5 outrigger boats of different sizes. All dives are guided by PADI instructors or PADI divemasters. Most of the 40 dive spots are just 10-30 min from the dive center. Also daytrips to several remote dive destinations and wrecks are offered. Dive services and equipment is excellent, even the president of the Philippines, Mrs. Gloria Arroyo, was diving with Sipalay Easy Diving and Beach Resort in 2006.

On a Dive Safari in Apo Island- 1:00 min
Additionally, several dive safaris are offered. Dive safaris are conducted with modernized local outrigger boats, the Goya and the Royo.
The boats offer 4 double cabins without aircon and are equipped with common bathroom and shower facilities.
Visaya Dive Safari – 6 days
Visaya dive safaris start in Sipalay and you visit all the dive spots around Dumaguete, Moalboal, Bohol, Balicasag, Siquijor, Sumilon and Apo Island (see video).
Cagayan Island Dive Safari - 6 days
Sipalay Easy Diving and Beach Resort offers also adventurous dive safaris to remote Cagayan Island with virtually unexplored dive sites about 120 km west of Negros in the Sulu Sea. In 1998 the whole area was declared a UNESCO wild-life preserve.
Dive Spots at Sipalay Easy Diving and Beach Resort
The dive pots offer a great variety, from slopes to walls and wrecks. Pigmy seahorses, ghost pipe fish, frog fish, different kind of lion and scorpion fishes and nudi branches are very common. Most probably wou will see also turtles, sea snakes, ghost moray ells, sweet lips and other tropical reef dwellers.
KEVIN'S REEF - Excellent house reef with an old big anchor at 9 meter depths. Max. depths 25 meters.
A-ROCK - Nice coral rocks surrounded by white sand. Depths 10 to 18 meters.
GRAND CANYONS - Really great canyons to dive through like a labyrinth. All at 6 to 15 meters.
DISNEYLAND - Very exiting dive site with coral blocks and white sand. Plenty of lions fish. 5 to 12 meters. Excellent for night diving with lots of night active marine life.
TOSCANA REEF - An other very nice house reef like a drop off
COCA-COLA WRECK - The Crew of Easy Diving found a new wreck in Sipalay after a search of nearly one year. On January 30th 2004 we found in the bay of Campomanes a freighter that sunk some 25 years ago. the freight was bottled softdrinks. We know now how Coca-cola bottle looked like 25 years ago as the freighter was a Coca-Cola freighter although everyone believed it has been a Pepsi freighter. This was a astonishing adventure. We will continue examining and mapping the wreck.
MS JOJO WRECK - Excellent condition. Topmost level at 20 meters Max. depths. 33 meters. Plenty of big lion fish to be seen.
SS PANAY - Exiting wreck from the second world war. Very good condition with 33 meters at topmost level. This war ship was hit by Japanese torpedo's in March 1942. Still gas mask in the stock rooms.
ELCO WRECK Nice small wreck at Obon Pt with nice corals and plenty of never seen big stag horn corals with plenty of fish inside.
MISTERY WALL - Beautiful Drop Off starts at 35 down to 70 meters. Only for deep divers. Large turtles can be seen.
BLUE WALL – Blue water dive to more than 40 metes. Only for certified deep divers.
EVA'S POINT- Drop off wall from 4 to 33 meters straight down. Just fantastic.
VILLAMOR A - special dive site near Hinoba-an. Entry at 5 meters going through channels. If current comes in , the dive site changes to a drift dive.Most beautiful soft corals on reef top.
MANTA DROP- Fantastic drop off from 15 to 35 meters. Plenty of nice fan corals.
HABOK HABOK - A very nice Wall with several big cracks and Canyons in it. Depth from 1 to 16m.
SUNKEN ISLAND - Beautiful big sunken island with plenty of fish and very nice table corals. 8 down to 38 meters. For many divers one of the best dive site.
AYERS ROCK - Fantastic sunken island with wonderful corals and plenty of fish at 18 to 35 meters depths.
MARCO POLO - Negative entry down to a fantastic coral reef with hundreds of big fish down to 30 meters. Just amazing and very unique. There are sharks passing by.
DA-WEST - Negative entry down to a fantastic coral reef with hundreds of big fish like Barracuda, Tuna, etc. down to 34 meters. Just amazing and very unique. There are Sting Rays and Sharks passing by. Perfect for underwater video and photography. Just in front of your cottage.
CLARA REEF - The reef starts at 11 down to 30 meters on a exiting slightly dropping wall. Plenty of Butterfly Fish among others and with the best chance of good visibility.
MARCELLO REEF - A very nice underwater world for divers with canyons And different cracks.
FRITZANTINO WALL - Very nice drop off down to 40 meters. The coral wall goes up to 15 meters. You even can reach the shallow area at 5 meters. Very exiting dive experience.
MA-ASIN ISLANDS - Most beautiful big table corals ever seen. Great coral garden from 8 to 28 meters.
MA-ASIN 2 - Nice coral walls starts from 5 down to 20 meters.
MA-ASIN 3 - An other wall full of nice corals.
OBON POINT - Splendid coral garden of 5 meters of wall sloping falling to 28 meters.
MATATINDOC PT. - Simple wall dive along the front reef of Nataasan Resort.
ENZIAN REEF - A lovely Reefplateau
LEONARDOS REEF - Healthy coral reef with hard and soft corals
BLACK ROCK I - Steep wall dive along the front reef of Obon Pt.
BLACK ROCK II - Similar extension of Black Rock
BLACK ROCK III - Several channels along the wall.
SPIRAL DROP - Straight down wall from 5 meters down to 27 meters, with a Coral formation like a spiral.
CATMON PT. I - Nice coral garden near Hinoba an with canyons and walls.
CATMON PT. II - North of Catmon Pt. is an other dive site fromfrom 5 to 22 meters. Excellent for day trips.
BULUGUISAN PT. - A coral plateau of about 5 meters starts the dive. A very nice drop off goes down to 22 meters to an entrance to a big cave. Excellent corals and gorgonians.
ROMANTICO - Another reef down with a negative entry to 26 meters. We have found a shark cave on top of the reef. Finally you can discover a very romantic wall dive bringing you back to the main house reef.
CATHEDRAL TOWER - Deep dive down to 40 meters on an excellent reef. A tower goes up to 22 meters
MAD MAX - (Bulata Pier) Dive along the pier at Bulata and you will find very special species like Nudibranch, Lionfish, Sea slag, Star fish, Tiger cowry,
JULIENS WRACK - Wreck dive with some current at 6 meters. The quiet big wreck lies on a large area. You can dive or snorkel on it.
NORTH-WALL - Beautiful coral garden with many fish.
SOUTH-WALL - South of Turtle Island , we have a beautiful reef which is full of soft and hard corals.
TAMPS - Free way down on 24 meters fish without end.
NELSON - Free way down on 21 meters falling wall
Fly to Negros, either Dumaguete or Bacolod. From there our car takes you to Sipalay. The drive takes 3-4 hours.
Cebu - Travel Philippines: Where do you want to dive today?