Scuba Diving in Moalboal

Moalboal, Cebu, Philippines - 1:03 min
Moalboal, a small town in the province of Cebu, is one of Cebu's treasured gems. Moalboal has a mountain ridge covered with lush foliage and deep valleys and is also home to some awesome dive spots.
Most dive spots are located on the fringe reef of a big peninsula extending from the town of Moalboal. The fringe reef is a type of coral reef that extends outward from the shore, with no body of water separating land and reef.
At the west side of the peninsula, about 4km from the town center, you find Panagsama Beach. Actually Panagsama Beach is an old fishing village, some remnants of the old village are still entwined within the beach resorts, restaurants and dive centers and give the beach its unique charm and atmosphere.
Panagsama has no real sand beach but rather a rockier beach which quickly gives way to a coral reef abundant with marine life. Thus it is famous with scuba divers and snorkelers and not so much known as a place for beach lovers. Top dive spots include Pescador Island with its famous underwater cavern, calles cathedral, and sunken island, an underwater hill with usually strong currents but abundance fish life, incl. pelagic.
The combination of spectacular scuba diving and outdoor adventure tours in jungle covered mountain valleys made this place famous with scuba divers and outdoor enthusiasts.
Panagsama Beach
In Moalboal everything rotates around scuba diving.
Pangsama Beach, about 4km from the town center, is the place where you want to go.
On a strip about 1km long you will find lots of small beach resorts, hotels, restaurants, open-air bars, barbecue stands, sari-sari stores and yes, also dive shops. The atmosphere is village-like, the Filipino residents, the expatriates living here and the visiting scuba divers form one tight community, open and friendly, everybody. Next to scuba diving Planet Action Adventures runs outdoor adventure activities, like canyoning, jungle trecking, mountain biking and even expeditions to active vulcanoes, offers everything but scuba diving.
Scuba Diving in Moalboal

Pescador Island, Moalboal, Cebu, Philippines - 1:54 min
Scuba Diving in Moalboal: Dive with turtles on nearly every dive, meet the occasional white tip shark (or a whale shark if you are lucky), dive steep walls plummeting into abysmal depths or just enjoy the colorful coral gardens on the reef tops.
In Moalboal we operate our very own PADI Dive Center. The Savedra Dive Center is your one-stop-shop for all your water and beach activities in Moalboal. The dive center offers a large selection of snorkeling and dive equipment and several boats to take you out to the top snorkel and dive destinations in Moalboal. Another PADI 5 Star Dive Center is Cebu Fun Divers at the quiet end of the lively beach.
Dive services offered include
3 daily boat dives
Non-Limit diving
Dive equipment retail
Digital underwater cameras for rent
Dive safaris, live-aboards and island hopping
Dive certifications from beginner to instructor level
Nitrox & Technical Diving
In-house travel agency for adventure and dive travel
All the beach resorts offered here are very close to the dive center. Since there are no big hotel chains here and all the beach resorts are rather small and family-run with a limited number of rooms and cottages, the place keeps its charm and village like atmosphere. The rooms in every resort have air-con, hot water and mini-bar. Some have sea view, a swimming pool and wifi internet. Prices range from 39$ to about 100$ per night. Contact us for more details.
Update: New dive operation in one of the nicest beach resorts in Cebu: Love's Dive & Beach Resort Moalboal
CABANA BEACH RESORT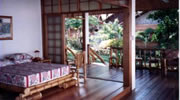 Cabana Beach Club Resort has 10 cozy rooms. Many rooms have a nice seaview. A swimming pool is just next door. Cabana is mainly made of natural materials and just 40m from the dive center. All rooms have aircon, hot water and a mini-bar.
MARINA VILLAGE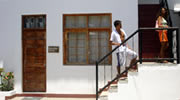 Marina Village
Beach Resort in Moalboal
is a beach resort with 18 rooms just behind the dive center. It is located in a tropical setting. All rooms have aircon, hot water and a mini-bar. Marinas' guests have free use of the swimming pool of Sole e Mare Resort.
SOLE E MARE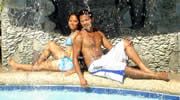 Sole e Mare Beach Resort Moalboa
l, just opposite of Cabana Beach Club Resort, has 12 rooms and a beautiful swimming pool. All rooms have aircon, hot water and a mini-bar. The resort is just 40 meters from the dive center.
Beach Resorts in Moalboal
IVONNE'S APARTELLE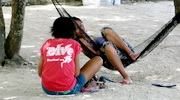 Ivonne's Beach Apartelle at the quiet end of Panagsama Beach in Moalboal. Very close to
Cebu Fun Divers.
LOVE'S BEACH RESORT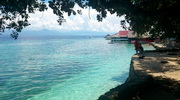 L
ove's Beach & Dive Resor
t is home to
Cebu Fun Divers
. Cozy set up in a tropical setting directly at the beach.
SAVEDRA BEACH RESORT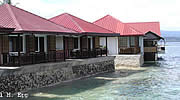 Savedra Beach Resort has 10 rooms and cottages overlooking the sea. All rooms have aircon, hot water and a mini-bar.
Moalboal is fairly easy to reach, this makes Moalboal the perfect location to start a multiple destination trip, since you don't depend on ferry schedules and weather conditions. Especially European divers who tend to have longer vacations combine a trip to Moalboal with some diving somewhere else, like Bohol, Negros or Malapascua..
From the aiport take a car to Moalboal. The most convenient way to get to Moalboal is to let us arrange your transfers. We provide reliable aircon cars. If you are up to some adventure, you can hire a taxi in Cebu City or at the airport. Be prepared for some bartering and some hidden costs, like to pay for the gasoline at the gas station. If you are really adventurous, take a taxi (insist on meter) to the Southern Bus Terminal in Cebu City. The driver should take you to the LIBRANDO or CERES bus terminal; a bus to Moalboal leaves about every full hour (Filipino time). Once in Moalboal, take a tricycle to Panagsama Beach. In rare cases a tricycle driver might take you not to the resort or dive center you requested, because he gets a commission from another resort. So be persistent.
If you drive by yourself drive from Mactan through Cebu City to the south of Cebu, passing by the towns of Talisay, Naga, San Fernando until you reach the town Carcar. There is a big roundabout where you have to turn right into the beautiful mountains, crossing over to the west coast of Cebu. Here you pass by the towns of Barili, Dumanjug, Ronda and Alcantara before you reach Moalboal. In Moalboal turn right to Panagsama Beach. The intersection is right after a big school on your right side. On the left side are a couple of bakeries. Directly at the intersection is a big tree with several signboards from assorted beach resorts and dive centers, pointing towards Panagsama Beach. Drive straight until you hit the beach (4km) than turn left. After 50 Meters you will stop in front of our dive center.
If you are in Moalboal and for any reason you (or your taxi driver) have to ask for the way, don't ask for Savedra, because Savedra is also a secluded beach far away and people might send you there. Ask always for PANAGSAMA BEACH.
Cebu - Travel Philippines: Where do you want to dive today?