Dive Palau with Sam's Tour
Sam's Tour is our partner in Palau and just the dive center you want to dive with when in Palau.
Sam's, a PADI National Geographic Dive Center which won 8 rewards since 1997, including "Best Dive Operator", "Best Dive Staff " and "Best Value", is a PADI 5-Star Instructor Development Center, an eco-adventure tour company and, last but least, home of the Bottom Time Bar & Grill, where divers and dive staff hang out after a day of exciting diving.
More on Sam's Tour in Palau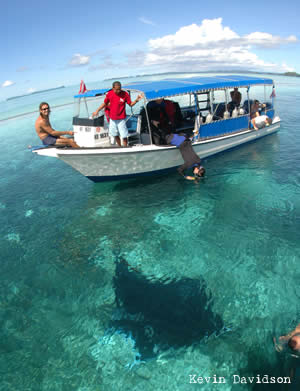 Sam's Tours technical diving department, a full equipped tech dive center named Palau Technical Divers, offers Trimix, Heliox and Rebreather services for deep range diving and wreck dive explorations.
To top it off, Micronesia's premier underwater photographer and videographer Kevin Davidso has his own u/w photo shop KD Photo on-site. Kevin offers a complete range of photo and video services including rental of Canon digital, Sea&Sea and Nikonos 35mm cameras.
A typical day of diving
A typical day of diving with Sam's is like this: Sam's Tour picks you up at your hotel free of charge, either with one of their speed boats or with a van. At the dive center you sign in for your dives, pay the state park fees and you dive master gives you an orientation over the dive spots and the diving. Off you go on one of their really fast speed boats. You fly with these boats through hundreds of jungle covered islands with pristine beaches, over azure-blue water, the wind in your hair. The ride alone is worth the money. After 40-60 minutes you arrive at the outer reef and dive some of the best dive spots on this planet. After the diving you stop by a secluded beach of a jungle covered island for your lunch, which is included in the dive price. Late afternoon you arrive at the dive center where the Sam's staff takes care of your equipment. Join an additional late afternoon dive (the next massive World War II wreck is just around the corner) or just hang out with the guys at the Bottom Time Bar.
A perfect day of diving.
Cebu - Travel Philippines: Where do you want to dive today?