Wreck & Shark Diving at Truk Lagoon
Expedition Fleets' newest destination is awesome Chuuk.
Formerly known as Truk Lagoon, this 40 mile diameter lagoon is the final resting place of over 180,000 tons of ships, planes tanks and other war material that met its' untimely end on the 17th and 18th of February, 1944.
Operation Hailstone was a massive naval air and surface attack launched on 17 and 18 February 1944, during World War II by the United States Navy against the Japanese naval and air base at Truk in the Caroline Islands, a pre-war Japanese territory. Operation Hailstone wa one of the most devastating aerial attacks in history and sank 60 assorted Japanese vessels and 250 planes.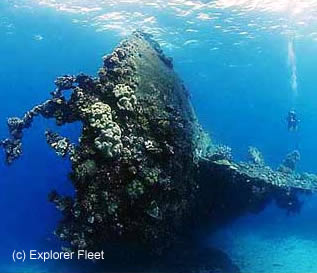 The 65 years that have passed since that fateful day have transformed these relics into artificial reefs supporting both hard and soft corals- a living museum. Ship-holds still contain tanks, planes and other wartime armaments.
Shipwrecks of Truk - Artefacts
Truk Lagoon is not only famous for the amount of wrecks at the sea bottom but also for the preservation and beauty of the these wrecks. You can enter into the wrecks but you are not allowed to remove any artifacts. Dangerous substances like aviation fuel, oil, gasoline and acid are present on many of the wrecks. Explosives, mines, munitions, detonators, torpedoes and shells are still "live". Please be aware that the wrecks of Truk Lagoon are war graves. Strict policies exist that prevent the removal of any artifacts or marine life from the wrecks. The Trukese hope to preserve their lagoon as an underwater living monument and museum of the war.
Often overlooked because of the wealth of wreck dive sites are the channels and the outer barrier reefs of the atoll where vertiginous walls remain the playground for rays, sharks and other pelagics:
Truk Lagoon and Fayu Islands – More than just wrecks!
Truk Lagoon and the nearby Fayu islands are not only for the wreck diver but offer also some of the most spectacular shark diving in the world.
The reef and wall diving that Truk has to offer is much under rated. At he nearby Fayu Islands you will find walls dropping not hundreds but thousands of meters, a very high bio diversity and some of the most exhilarating shark diving you will do in your life.
On your dives you will encounter pristine coral formations and a very likely a very high number of sharks like white tip's, nurse sharks, sleeping and free swimming, black tip sharks and some of the most inquisitive grey reef sharks you have ever seen. On several occasions these sharks physically bumped into the cameras of divers, giving both a good scare. Additionally you might see large schools of bump head parrot fish, big eyed trevally, giant trevally and even spinner dolphins if you are lucky.
With Fayu Island Expedition Fleet offers a new itinerary for Truk Lagoon which is a combination of wreck and reef diving..
So many wrecks, so little time: Live-aboard Specials
Explorer Fleet offers from 2009- Jan 2010 TWO EXTRA NIGHTS FREE for every week-long trip booked. This 10 days for the price of 8 voyages are limited to dive sites within the lagoon.
10 Days Truk Only $ 2,550
NEW - Truk Lagoon and Fayu Islands Special!

11 Days Truk and Fayu $ 3,650
(6 days inside the lagoon and 2 days in Fayu Island)
Contact us for more details.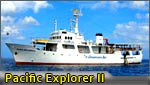 The Pacific Explorer 2, newly refitted, is in Chuuk since November, 2007. 11 spacious rooms will comfortably host 22 divers in the value for money and unparalleled service the Expedition Fleet is known for. Divers will deploy in 2 chase boats for comfortable and un-crowded diving.
Package Inclusion:
- Aircon accommodation with ensuite toilet facilities
- Transfers (airport/ boat/airport)
- 4-5 dives/day including night diving from Monday through Saturday
- Fullboard meals
- Use of skiffs for diving
- Divemaster / Instructors, tanks, weights, weightbelt
- Kayaks are free for guest use
Package Exclusion:
- Roundtrip international ticket
- Diving Permit at USD $30.00/person
- Conservation Fees
- Cabin Tax USD $10 per person/night
- Fuel surcharge at US $150.00/person
- Dive Computer is required for every dive.
- Airport and porterage fees
- Alcoholic drinks
- Gear Rentals and Nitrox
- Dive and Travel Insurance
- Other incidental expenses
Shipwrecks in Truk Lagoon
FUJIKAWA MARU

The most popular wreck in Truk Lagoon, the Fujikawa Maru is a must dive. This is probably one of the best wreckdives in the world and features in many "Top X" wreckdives list. Whether your interest is in artifacts or marine life this wreck has it. Diving on the Fujikawa Maru was a spectacular new experience; a submarine forest of thick and colorful encrusting corals covering the masts, kingposts, cargo bboms, deck railings
HEIAN MARU

This ship was a passenger and cargo liner, which was converted into a submarine depot ship. Originally, she was a passenger ship designed for luxury service between Yokohama and Seattle. It is the largest ship in the lagoon and lies in the old submarine anchorage. Long Lance torpedoes can be found. Periscopes lay in two companionways on levels below & aft of the bridge.Many artifacts can be found throughout this wreck.
HOKI MARU

This captured New Zealand vessel (M/V Hauraki) sunk upright with a slight list to port. Except for the bow & forecastle the fore ship was destroyed by an aviation gasoline explosion. The midship & bridge are devastated but contain pockets of interesting artifacts. The aft holds contain an assortment of construction equipment & supplies.
NIPPO MARU

In 1969, the Nippo Maru was filmed by the Cousteau expedition but not identified. It was then "lost" until rediscovered on 16 June 1980 by Klaus Lindemann. The Nippo lies on a sand bottom in 48 metres of water, lying in an east-west direction with the bow slightly shallower than the stern and having a slight list to port. The wreck is basically intact, with only slight damage to the bridge area and stern visible.
RIO DE JANEIRO MARU

Rio de Janeiro Maru sits at a maximum depth of about 34 metres, with the ship lying on its starboard side (note that at least one of the books on the Chuuk Lagoon wrecks says it is on its starboard side but then has diagrams showing her on the port side). It is located on the eastern side of Uman Island, perhaps a few hundred metres off the southern most end. As you swim down onto the wreck it is quickly obvious that this is a huge wreck, the fourth biggest in Chuuk Lagoon in terms of tonnage.
SAN FRANCISCO MARU

This passenger/cargo ship sunk upright, fully loaded with cargo & thus is often called 'The Million Dollar Wreck'. Deck cargo includes both trucks & battle tanks. Hold cargo includes mines, torpedoes, bombs, artillery, anti-tank, & small arms munitions, aircraft engines & parts & oil/gasoline drums. Many artifacts remain in the bridge area.

SHINKOKU MARU

The second largest wreck in Chuuk Lagoon. The Shinkoku Maru was built in 1940 by Kawashi Jyuko Co. of Kobe for Kobe Sanbashi K.K. (Kobe Pier Co. Ltd). It was 150 metres long and 20 metres wide and was requisitioned by the Japanese Navy in 1941, four weeks before Pearl Harbour.
UNKAI MARU NO.6

The Unkai Maru was an old ship when she sunk. She was launched in the UK before WWI as the Venus and purchased by the Japanese who renamed her. The wreck is not too deep and she lies on an even keel. This makes the Unkai Maru a great dive for non-technical divers.
She was sunk by several bomb hits that raised the bow out of the water before sinking.
YAMAGIRI MARU

A large combined freighter/passenger liner, the Yamagiri is lying on her port side. The wreck is fairly intact with the superstructure and pilot house interesting and accessible. Hold No. 5 contains 35.6cm (14") shells for second-line Japanese battleships, a steamroller and construction equipment.
YUBAE MARU

The Yubai Maru arrived in Chuuk on 10th February 1944 as part of an escorted convoy. She was anchored along the Western shore of Uman Island not far from the South-Eastern tip of Fefan Island on the 16th when planes from the USS Bunker Hill attacked. She was hit by a 1,000lb bomb and at least 1 torpedo and heavy damaged and starting to sink when the aircraft retired. The ship lies on her port side in 15m of water to the starboard beam and 36m to the bottom. There is a load of plates, rice bowls, cups, saucers and other pieces of china.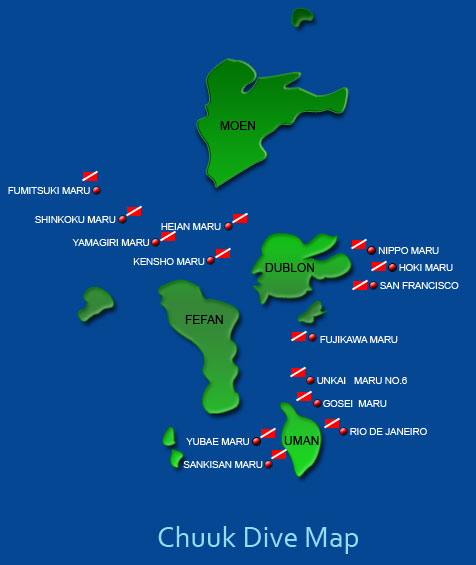 Cebu - Travel Philippines: Where do you want to dive today?