Dive Special: Operation Hailstone and the Wrecks of Truk Lagoon
Operation Hailstone was a massive naval air and surface attack launched on 17 and 18 February 1944, during World War II by the United States Navy against the Japanese naval and air base at Truk in the Caroline Islands, a pre-war Japanese territory.
Truk was a major Japanese logistical base as well as the operating "home" base for the Imperial Japanese Navy's Combined Fleet. Some have described it as the Japanese equivalent of the US Navy's Pearl Harbor. The atoll was the only major Japanese airbase within range of the Marshall Islands and was a significant source of support for Japanese garrisons located on islands and atolls throughout the central and south Pacific.
The wrecks of Truk Lagoon: Operation Hailstone
From Wikipedia, the free encyclopedia
All text is available under the terms of the GNU Free Documentation License.
To ensure air and naval superiority for the upcoming invasion of Eniwetok Admiral Raymond Spruance ordered an attack on Truk. Vice Admiral Marc A. Mitscher's Task Force 58 had five fleet carriers (Enterprise, Yorktown, Essex, Intrepid, and Bunker Hill) and four light carriers (Belleau Wood, Cabot, Monterey,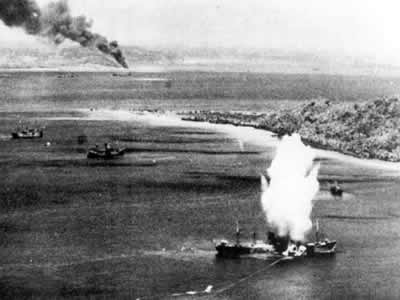 and Cowpens), embarking more than 500 planes. Supporting the carriers was a large fleet of seven battleships, and numerous cruisers, destroyers, submarines, and other support ships. (Morison, 1961)
Fearing that the base was becoming too vulnerable, the Japanese had relocated the aircraft carriers, battleships, and heavy cruisers of the combined fleet to Palau a week earlier. However, numerous smaller warships and merchant ships remained in and around the anchorage.
The U.S. attack involved a combination of airstrikes, surface ship actions, and submarine attacks over two days and appeared to take the Japanese completely by surprise. Several daylight, along with nighttime airstrikes, employed fighters, dive bombers, and torpedo aircraft in attacks on Japanese airfields, aircraft, shore installations, and ships in and around the Truk anchorage. A force of U.S. surface ships and submarines guarded possible exit routes from the island's anchorage to attack any Japanese ships that tried to escape from the airstrikes.
In total the attack sank three Japanese light cruisers (Agano, Katori, and Naka), four destroyers (Oite, Fumizuki, Maikaze, and Tachikaze), three auxiliary cruisers (Akagi Maru, Aikoku Maru, Kiyosumi Maru), two submarine tenders (Heian Maru, Rio de Janeiro Maru), three other smaller warships (including submarine chasers Ch-24 and Shonan Maru 15), aircraft transport Fujikawa Maru, and 32 merchant ships. Some of the ships were destroyed in the anchorage and some in the area surrounding Truk lagoon. Many of the merchant ships were loaded with reinforcements and supplies for Japanese garrisons in the central Pacific area. Very few of the troops aboard the sunken ships survived and little of their cargos were recovered. (Lindeman, 2005)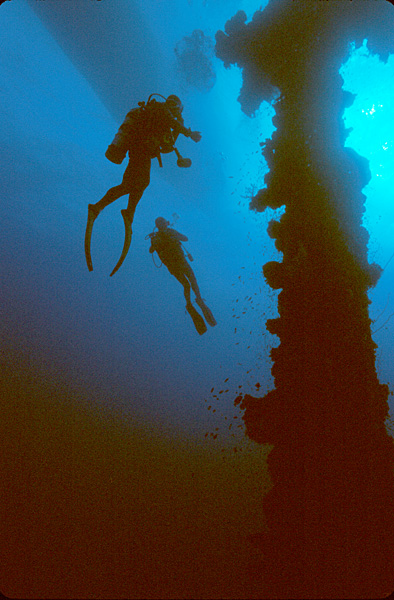 Maikaze, along with several support ships, was sunk by U.S. surface ships while trying to escape from the Truk anchorage. The survivors of the sunken Japanese ships reportedly refused rescue efforts by the U.S. ships. (Morison, 1961) Agano, which was already en-route to Japan when the attack began, was sunk by a U.S. submarine, the USS Skate. Oite rescued 523 survivors from the Agano and returned to Truk lagoon to assist in its defense with her anti-aircraft guns. She was sunk soon after by air attack with the Agano survivors still on board, killing all of them and all but 20 of the Oite's crew. (See Agano)
Over 250 Japanese aircraft were destroyed, mostly on the ground. Many of the aircraft were in various states of assembly, having just arrived from Japan in disassembled form aboard cargo ships. Very few of the assembled aircraft were able to take off in response to the U.S. attack. Several Japanese aircraft that did take off were claimed destroyed by U.S. fighters or gunners on the U.S. bombers and torpedo planes.
The U.S. lost twenty-five aircraft, mainly due to the intense anti-aircraft fire from Truk's defenses. About 16 U.S aircrew were rescued by submarine or amphibious aircraft.[2] A nighttime torpedo attack by a Japanese aircraft from either Rabaul or Saipan damaged the Intrepid and killed 11 of her crew, forcing her to return to Pearl Harbor and later, San Francisco for repairs. She returned to duty in June, 1944. Another Japanese air attack slightly damaged the battleship USS Iowa with a bomb hit. (Morison, 1961)
From Wikipedia, the free encyclopedia
All text is available under the terms of the GNU Free Documentation License.