Your Liveaboard in Chuuk: Pacific Explorer II
MY PACIFIC EXPLORER II
Accomodations/Services
Fully air-conditioned and carpeted interiors, 12 twin cabins with ensuite toilet and shower facilities, open-rinse showers on deck, entertainment center w/ TV, VHS, Stereo, a well-stocked bar, library of books, magazines and VCR/VCD/DVD and tapes, open bar area, satellite telephone,11 experienced service crew.
MV Pacific Explorer II Picture Gallery
Boat Specification
Gross Tonnage/ Weight: 325.67
Loa: 42.6
Breadth: 7.80
Draft:4.10
Main Engine: Hanshin
Year Built:
Cruising Speed: 10 knots
Hull: Steel
Generators: 2 x 120 KVA Yanmar
1 x 25 KVA Denyo
Water Capacity: 5 tons/day
Electricity: 220-110V- 60 htz
Mininum Capacity- 16 guests
Maximum Capacity- 24 guests

Safety Equipment, Navigation & Communication
First Aid DAN Kit, SOLAS Compliant, GMDSS, Navtex EPIRB,SSB Radio, Marine VHF, Weather Fax, Radar,1 x 20 and 1 x 25 Inflatable life raft.
Compressors - cfm eachTANKS: Aluminum tanks, Regulators, Nitrox
BCDS, Weight belts, Weights and Dive lights
NITROX: Nitrox Membrane System
TENDERS: 2 x 31 foot chase boats
Rental BCD's, regulators, wetsuits, fins, masks and snorkels
16 sets double 80 cuft tanks air/nitrox with twin tank valve with isolator valves
23 pcs 100 cuft aluminium air/nitrox tanks with yoke/din adapter valves
5 pcs 40 cuft aluminium pony bottles
34 pcs 80 cuft nitrox tanks with yoke/din adapter valves
36 pcs 80 cuft air tanks with yoke/din adapter valves
12 pcs steel 4 liters pony bottles with din/yoke adapter valves
Destination
MY Pacific Explorer II - Boat Layout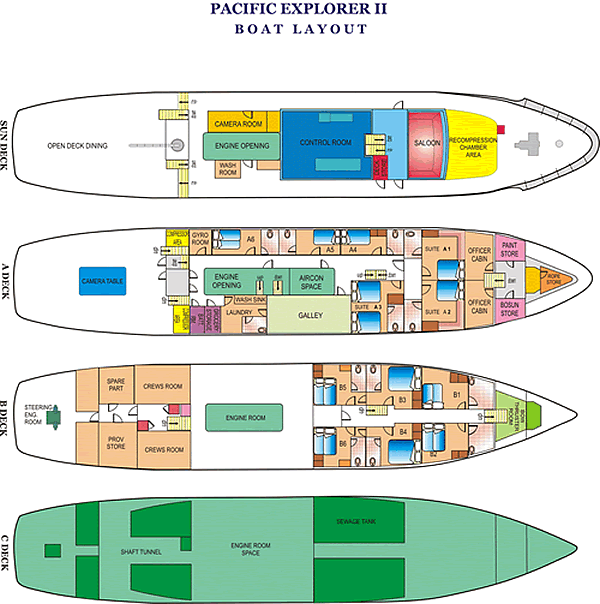 Cebu - Travel Philippines: Where do you want to dive today?