Your Liveaboard in Palau: Big Blue Explorer
MV Big Blue Explorer
The MV Big Blue Explorer is large and well-equipped fully airconditioned cruiser . This vessel offers ensuite restroom facilities; a full compliment of superbly trained crew; an ambiance of planned comfort while cruising the remote and enchanting islands of the tropics. This moving vessel is set to provide the best diving and island adventures. Big Blue Explorer is currently operating in Palau.
MV Big Blue Explorer Picture Gallery
Boat Specification
Gross Tonnage/ Weight: 491.09
Loa: 47.8
Breadth: 8.6 m/ 28ft
Draft: 4
Main Engine: Akasaka
Year Built: 1979
Cruising Speed: 14-16 knots
Hull: Steel
Generators:2 x Nigata 250 KVA
1 x Isuzu 30KVA
Water Maker: 1 x 10 tons, 2 x 5 tons per day
Water Capacity: 70 tons
Electricity: 220/110V-60hz
Mininum Capacity- 10 guests
Maximum Capacity- 22 guests
Cabins: Honeymoon Suite: B3
Deluxe Cabin:A2, B2, B1,B4
Standard Cabin: A1, A3, A4,A5
Accomodations/Services
Fully air-conditioned and carpeted interiors; 9 twin cabins ensuite toilet and shower facilities; 9 twin cabins with common toilet and shower facilities; 1 whirlpool Jacuzzi; hot and cold water; 8 open rinse showers on deck; Entertainment center with TV, VHS, and stereo; saloon; Library of books, magazines, VCR/VCD/DVD and tapes; 50 sq.m. large sundeck for open dining with teak furniture;telephone system in each room; Satellite telephone and e-mail available; 18 experienced service crew.
Safety Equipment, Navigation & Communication
First Aid Station with oxygen resuscitator : SOLAS Compliant
GMDSS, EPIRB, SSB Radio, Furuno Weather Fax
Furuno Depth Finder Radar
Radio: Anrithsu Marine VHF, ICOM SSB
6X Handheld VHF
GPS - Furuno GP 500
Imarsat Worldwide Telephone Communication System
4 x 20 Inflatable Life Raft
COMPRESSORS:2 Bauer K15 Compressors - 15 cfm each
2 Bauer Mariner Compressors
TANKS: 110- Aluminum 80 tanks, 30 Nitrox tanks
BCD'S, Regulators, Weight belts, Weights, Divelights
OTHERS: NITROX: Nitrox Membrane System Rebreather:
CAMERAS: Sea & Sea Camera
Video NTSC & PAL system and Camera Room. (special arrangement)
TENDERS: 2 x 10 meter chase boats and 2 x 8 meters skiffs, kayaks
Destination
MV Big Blue Explorer - Boat Layout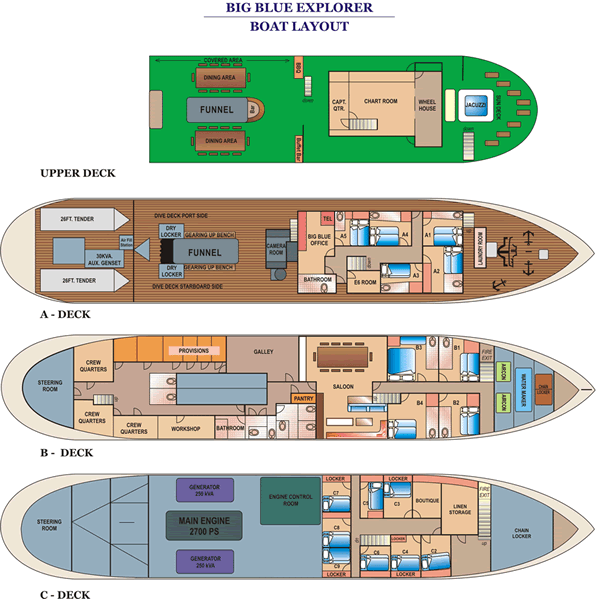 Cebu - Travel Philippines: Where do you want to dive today?