M/Y H.C. Andersen - The Southern Route - The Northern Route - Tubbataha Route
H.C. Andersen Liveaboard - Tubbataha Route (May - June)
The Tubbataha Cruise Schedule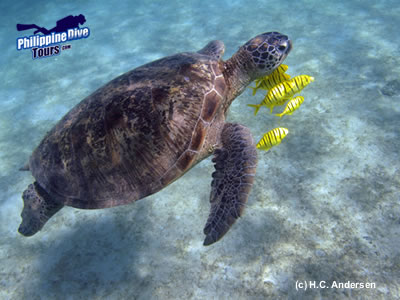 Day 1
Departure from Puerto Princesa

Day 2
Tubbataha with snorkeling and diving

Day 3
Tubbataha with snorkeling and diving

Day 4
Tubbataha with snorkeling and diving

Day 5
Tubbataha with snorkeling and diving

Day 6
Arrival in Puerto Princesa
Tubbataha - World class diving in the Philippines
Tubbataha is recognized as being the best diving spot in the Philippines and amongst the best in South East Asia. Divers come here for the incredible corals, huge schools of fish and the chance to see lots of sharks and manta rays. Tubbataha Reefs Natural Park is both a National Marine Park and a UNESCO World Heritage Site, and was nominated recently as one of the 7 wonders of nature.

A Tubbataha Live aboard on M/Y Hans Christian Andersen is the perfect way to explore the wonders of this special place.

The cruise departs from Puerto Princessa on Palawan late saturday afternoon and arrives at Tubbataha early enough for a pre breakfast morning dive the day after. The coming 4 days will be full of diving; up to 5 times a day for the most serious divers. All dive activities will be planned together with our dive masters, to make the best match between experience, interests and weather and sea conditions of the day. The facilities onboard are comfortable and equipped for maximum relaxation in between dives. There is restaurant and bar facilities, massage service, Jacuzzi on the deck. Passengers stay in nice cabins with windows, A/C and private facilities.

The reef is made up of two coral atolls divided by an eight-kilometer wide channel. The South Atoll, the smaller of the two is five kilometers in length and three kilometers in width; while the North Atoll, the larger of the two is 16 kilometers long and five kilometers wide. Each reef has a single small islet that protrudes from the water. The season for diving is limited to just four months, but our trips run only from May to June, as the rest of the year the weather conditions can be unpredictable.

The absence of people and fishing means that the reef is in very good condition and there are schools of jacks, surgeonfish, sweetlips and snappers everywhere. The hard and soft corals can give you some great photo opportunities. Lovers of macro life are always impressed by the number of nudibranchs, shrimps and pipe fish in the area. It is however, the big life that is the main attraction: turtles, tuna, nurse, white tip and black tip sharks are very common. Eagle rays and manta rays are regular visitors and the sightings of leopard sharks, shovel nose sharks and hammerheads continue to increase.

Tubbataha Reefs Natural Park contains roughly 10,000 hectares of coral reef, lying in the heart of the Coral Triangle - the centre of global marine biodiversity.
Cebu - Travel Philippines: Where do you want to dive today?