M/Y H.C. Andersen - The Southern Route - The Northern Route - Tubbataha Route
H.C. Andersen Liveaboard - Southern Route (October - December)
The Visayas - Cruise Schedule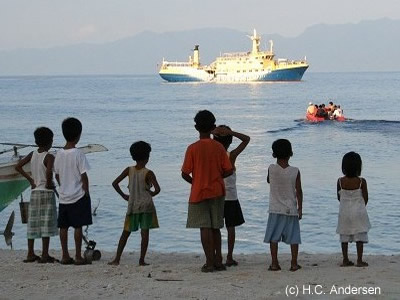 Day 1
Departure from Cebu
Day 2
Apo Island and Siquijor
Day 3
Balicasag and Pamilacan
Day 4
Camiguin Island
Day 5
Tood Island and Bilangbilangan Island
Day 6
Talong Island and Calangaman Island
Day 7
Monad Shoal and Malapascua Island
Day 8
Arrival Cebu
The following is a day by day run through of the Southern Route:
Day 1 - Departure from Cebu
Departure from Cebu, the second largest city of the Philippines. After boarding, you will be shown to your cabin. Then we all gather for a welcome drink and a presentation of the ship and its crew. Dinner will be served on the deck while we head out on a southerly course underneath a starry sky.

Day 2 - Apo Island and Siquijor
We arrive early in the morning at the rocky Apo Island, one of the pearls of the Visayas region (not to be confused with Apo Island of the Apo atoll). Apo Island is home to a small society of fishermen and it offers a relaxed atmosphere and a wonderful beach. Excellent snorkeling and diving around the island. Lunch will be served on board while we make our way eastward to Siquijor Island where we will anchor for the night.

Day 3 - Balicasag and Pamilacan
We depart early in the morning for our next destination, the island of Balicasag. Balicasag is considered to be the best diving site in the Visayas region. Balicasag is a natural reserve and it offers a huge variety of beautiful corals and colourful fish for snorkelers and divers alike.

Lunch will be served on board while we set the course for Pamilacan Island. The people of this island were whalers for generations, but with the ban on whaling in 1992, they took to traditional fishing. A stroll through the village is well worth your time. Here you will get an interesting glimpse of daily life, present and past, on this secluded island.

Back on the ship, it is time for a "Happy Hour" drink with a view of the sunset until dinner is served.

Day 4 - Camiguin Island
We arrive at Camiguin Island early in the morning. The Philippines is the world's second largest archipelago, consisting of more than 7,000 tropical islands, so it takes something truly extraordinary to stand out from the rest. Camiguin Island does just that. The island is famous for its wonderful, sweet lanzones fruits  or bulahan as they are known locally.

Camiguin Island is rich with volcanoes, hot springs, blue lagoons, beautiful waterfalls and deep jungles.
The island's most spectacular feature is the Hibok-Hibok volcano, rising to 1,320 metres' height. Camiguin actually has a larger number of volcanoes per square kilometre than any other island on Earth. Hibok-Hibok last erupted in 1951.

We will spend the entire day on the island, giving you plenty of time for exploring together with one of our guides. For the less adventurous, Camiguin is also blessed with intriguing black sandy beaches and a healthy coral reef, ideal for both diving and snorkeling.

Day 5 - Tood Island and Bilangbilangan Island
From Camiguin we head north for the small Tood Island. Very few travellers visit this fantastic island as it is only accessible by small vessels like the M/Y "Hans Christian Andersen".

It is truly a privilege to visit this strikingly beautiful island where life moves at a relaxed pace. Local fishermen in their small, colourful bancas look like floating flowers as they gently move about on the deep blue sea. You can enjoy a relaxing morning in this small paradise before we move on to our next destination, Bilangbilangan Island where we drop anchor while we watch the spectacular sunset over the sea.

Day 6 - Talong Island and Calangaman Island
While you wake up to the sixth day of the cruise, we approach the tiny Talong Island  a beautiful sight with its jagged, rocky coastline and white, sandy beaches. Talong is famous for the superb snorkeling and diving opportunities that this little pearl has to offer.

Lunch is served on board as we continue the voyage towards the small Calangaman Island, one of the most beautiful destinations on the entire cruise. Pristine beaches and crystal clear, turquoise-coloured water surround this unspoiled natural paradise.

In the evening we will have a barbecue party on the beach beneath the sparkling tropical sky.

Day 7 - Monad Shoal and Malapascua Island
The Monad Shoal is primarily a diving location. Divers will get up early in the morning to a unique experience: the spectacular and rare thresher shark. This rare species normally hunts at greater depths but has found itself a "cleaning station" at Monad Shoal. Several other shark species and manta rays are frequently seen on dives here.

Once the divers are back on board, breakfast is served while we head for Malapascua Island, located just north of Cebu Island. It is a peaceful little island where we will spend the rest of the day. The island is just 2½ km long and it makes for a nice walk around the coastline. Along the way there are beautiful beaches and picturesque fishing villages. On the northwest side of the island, there is a lighthouse that offers a spectacular view of the island and the surrounding sea.

Day 8 - Cebu
After an overnight voyage we arrive at Cebu at breakfast time. After breakfast it is time to say goodbye and leave the ship after a week packed with wonderful experiences and memorable moments.

In case of inclement weather
The ship moves from island to island through sheltered waters. In case of inclement weather, we will anchor in a safe lagoon and await better weather. Safety always comes first on our adventure cruises, but it is extremely rare that we have to skip a day's programme
Cebu - Travel Philippines: Where do you want to dive today?