Cebu Dive & Adventure Travel - Scuba Diving, Dive Safaris & Live-aboards in the Philippines

Scuba Diving in the Philippines - 1:00 min
Scuba Diving in the Philippines: Cebu Dive & Adventure Travel specializes on dive safaris and all-includive dive and resort packages for scuba divers diving in the Philippines and Palau.
We offer custom - tailored dive packages, dive safaris and island hopping tours for scuba divers in Tubbataha, Cebu, Bohol and Negros in the Philippines.
Cebu Dive & Adventure Travel, under German management, is run by divers for divers and even our office is based inside a 5 Star IDC Dive Center. So simply lean back and dive with us into the fascinating underwater world of the Philippines.
For the newest prices, packages and itineraries please contact us by using the quick contact form or just send a mail to info@cebu-travel.com.
Diving in the Philippines: Tubbataha Live-aboard with Expedition Fleet

Expedition Fleet Live-aboards, Tubbataha, Philippines - Video 1:04 min
The Tubbataha Reef in the Philippines – more than 10,000 hectares of coral reef in the centre of global marine biodiversity, the "Coral Triangle".
Protected from over-exploration by isolation and comparable harsh weather conditions for small fishing boats, Tubbataha was declared a World Heritage Site by the United Nations Educational, Scientific, and Cultural Organization (UNESCO) on December 1993. Live-aboard diving expeditions are offered by our partner Expedition Fleet from March to June, the summer time in the Philippines where you can expect good weather conditions and calm seas. More in info on live-aboards in Tubbataha…
Live-aboard Diving: H.C. Andersen & Rags II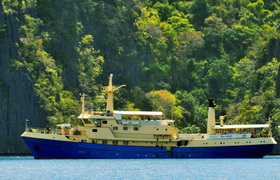 CRUISE THE PHILIPPINE ARCHIPELAGO IN STYLE
A cruise on board the M/Y "Hans Christian Andersen" has all the makings of a fairytale come true. Depending on the time of year, our adventure cruise will take you around on one of several different routes - a Northern and a Southern route and Tubbataha.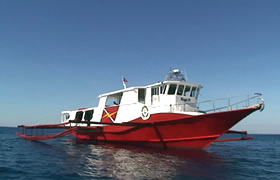 DIVE SAFARIS & LIVEABOARDS WITH RAGS II
The essence of scuba diving: this boat is heaven for all hard core and technical divers. Nitrox is for free. 2 compressors make sure you always have air. Trimix is available on request. Technical dive equipment and even professional underwater video systems for exploration tours is for rent.
The Philippines: Dive Safaris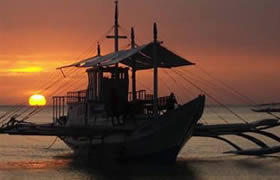 Cruise through the Philippine archipelago in custom-build native outrigger boats and visit the best dive spots in the Visayas. Dive the high lights of Bohol, Cebu, Negros and Siquijor Island and spend the nights in comfortable beach resorts near the dive spots. Use dive safaris as a means of transportation to combine 2 or more dive destinations. More on dive safaris and island hopping…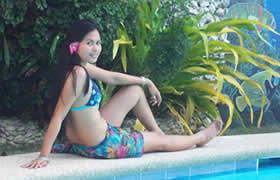 SCUBA DIVING IN CEBU
The hidden jewel in Cebu: In the middle of the coral triangle of the Philippines, just a few minutes by boat to renowned Pescador Island, is a cozy family-run beach resort - the perfect hide-away for scuba divers: Love's Beach & Dive Resort. More on scuba diving in Cebu...
Landbased Diving in the Philippines: Cebu - Bohol - Negros
CEBU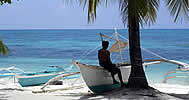 Cebu is a heaven for scuba divers and adventure tourists. Dive caves and marine parks in Mactan Island, look for thresher sharks and manta rays in Malapascua or visit us in beautiful Moalboal and dive with turtles, white tip sharks and even whale sharks. Moalboal is also the center of outdoor adventure trips, incl. canyoning, caving, horse back riding and volcano trekking. More about scuba diving and adventure in Cebu…
BOHOL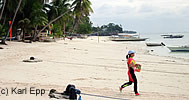 Alona Beach in Bohol: the white, powdery beach on Panglao Island is a tropical idyll and offers some of the best diving in the Philippines. Balicasag and Cabilao Island are the top dive spots in the region and offer abundant fish life and untouched coral reefs. Don't miss a visit to the Chocolate Hills. If you want to do combine excellent diving with nice beaches, Bohol is definitely your best choice. More on scuba divng in Bohol...
NEGROS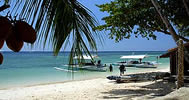 Negros: Dauin, Zamboanguita and Sipalay are the places to go for the avid diver. Zamboanguita is only minutes away from Apo Island and home to the exclusive Thalatta Beach Resort. Easy Divers is based in Sipalay and offers wreck diving and adventurous dive safaris throughout the Visaya archipelago and the still unexplored Cagayan Islands. More on scuba diving in Sipalay. Negros…
Cebu Dive & Adventure Travel: Where do you want to dive today?